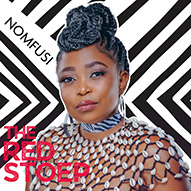 September 2021 - This album is made available by arrangement with the Delicious Tunes label from Munchen in Germany who represent the artist Nomfusi from the Eastern Cape of South Africa. Nomfusi is a singer-songwriter doing soul, pop and crossover traditional material. Mountain Record released the new album, The Red Stoep in southern Africa.
Link - https://music.apple.com/za/album/the-red-stoep/1582939124
Image – Songwrights Publishers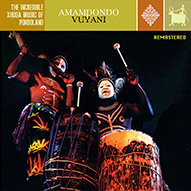 December 2020 - A special project with the Melt 2000 record label resulted in us being able to re-issue three albums by the traditional music super-stars Amampondo. The albums are Vuyani, Drums for Tomorrow, and Raw and Un-diluted. These records cover the recording output of the group after their Inyama album, which was their last Mountain Records release.
Links -
https://music.apple.com/za/album/drums-for-tomorrow-re-issue/1529766028
https://music.apple.com/za/album/vuyani-re-issue/1542819084
https://music.apple.com/za/album/raw-and-undiluted-remastered/1561075151
Image – Songwrights Publishers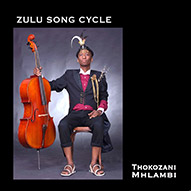 September 2019 - We published the music of Thokozani Mlambi and assisted him to release his debut album titled Zulu Song Cycle. It is basically a program of traditional Zulu music. In addition he included passages of music from him on the cello. The album was released on the Mountain Records label to enable the artist to get world-wide digital distribution.
Link - https://music.apple.com/za/album/zulu-song-cycle/1477757672
Image – Songwrights Publishers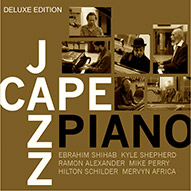 December 2018 - A special Deluxe version of the Cape Jazz Piano album has been put together adding the "out takes" from the April 2018 sessions that were not included on the CD album. The album is set for issue as digital only release in February 2019.
Link - https://itunes.apple.com/de/album/cape-jazz-piano-deluxe-edition/1443669489?l=en
Image – Songwrights Publishers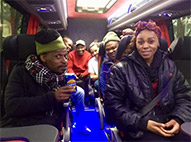 October 2018 - We have set up a couple of very successful international tours for Dizu Plaatjies and his band over the last year or so. Notably to the World music Festival in Taiwan in May and concerts and workshops organised for Finland in November.
Image – Songwrights Publishers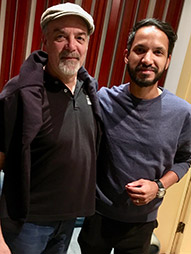 April 2018 - Label boss, Patrick Lee-Thorp was in Cape Town in March and April 2018 and decided to go to the studio with a bunch of piano players whom he had worked with over the years. The project was funded by our sister music publisher – Songwrights Publishers. The result is a wonderful jazz release called Cape Jazz Piano set for a November 2018 release.
Link - https://itunes.apple.com/de/album/cape-jazz-piano/1437856295?l=en
Pic – Patrick Lee-Thorp and Kyle Shepherd. Songwrights Publishers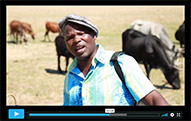 August 2017 - We re-uploaded the Inkomo clip, produced at great expense and (long distance) organisational effort. Inkomo from the latest Dizu Plaatjies album. The video was shot in Langa, Cape Town and includes Allou April who played on the original recorded track. The clip can be seen on Vimeo here https://vimeo.com/181088316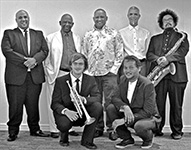 March 2017 - The Cape Jazz Band project continues to roll under the leadership of veteran drummer Jack Momple. As we write the group are preparing for a slot at the Borneo Jazz Festival in mid May. The group rarely perform outside Cape Town these days. Their last album, Musical Democracy, was released world-wide though.
Link - http://capejazzband.blogspot.co.uk/2017/02/cape-jazz-band-heading-east.html
Pic – Beverley Gough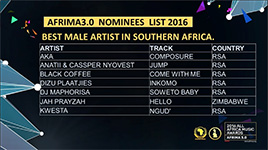 May 2016 - The video of INKOMO made in Langa, Cape Town for the track taken from Dizu's album, was released and the track was immediately nominated for a AFRMA award as best male artist in Southern Africa. AFRIMA is an all Africa music media award that takes place in Lagos in Nigeria. Dizu was invited to the event but could not attend due to other commitments.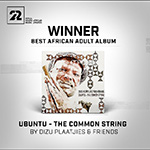 April 2016 - We were very gratified to score a second SAMA award for the latest Dizu Plaatjies album, Ubuntu, The Common String. This time in the category, Best Adult African Album. The album was produced by label boss, Patrick Lee-Thorp who also produced Dizu's last SAMA Award winner. Dizu has won another SAMA as part of his previous group Amampondo, before leaving to pursue a solo career.


December 2015 - Dizu Plaatjies' album Ubuntu – The Common String, hit the Transglobal World Music Charts going in at number 8. The album moved up to number 6 and stayed in the Top 20 for 4 months. A nice breakthrough. The album also was picked as a Top of the World release in the prestigeous UK Songlines magazine. Other music media also took note of this release notably, fRoots in the UK and Folker in Germany, who gave the project a double page spread.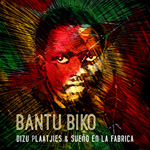 September 2015 - The first single from Dizu Plaatjies's new album is released. In fact the the first single from this artists who has 10 albums to his name! Entitle, BANTU BIKO it tells of Dizu's meeting with the man himself some 40 years ago.
https://www.youtube.com/watch?v=ZZzNMBDrrFE

July 2015 - A great deal of energy and resources in over the last 6 months was put into finishing the recording and mixes of the tracks for the new album of Dizu Plaatjies. The recordings were produced by Patrick Lee-Thorp again, this time using different soloists, some of whom are from genres outside Dizu's world music mode. These include Classical, Jazz and Rock guitarists, a jazz ensemble and a female contemporary music singer, most of whom have musical roots in Europe. He once again uses members of his Ibuyambo Ensemble though less for their talents in traditional music than in the past. The album was mixed in Germany and set for release in October 2015.
Here is a short clip from one of the sessions:
https://www.youtube.com/watch?v=N7gSIXO5AmEl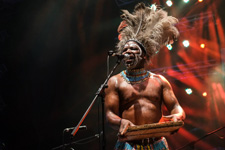 April 2015 - DIZU and IBUYAMBO return to S. E. Asia for shows in Thailand(January) and Malaysia (April). As before the group were a big hit with audiences in the region. The group were also slated to play shows in Russia and the USA in the summer, but mostly due to problems with visas, they were forced to call off these tours. They will however return to the stage in France towards the end of 2015.
Pic Credit – Loo Boon Chuan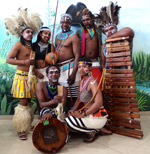 October 2014 - DIZU PLAATJIES is perhaps South Africa's leading world music star. He has performed world-wide for over 30 years. His latest coup is headlining his own show at New York's Carnegie Hall. The concert, which focusses on Xhosa music is on the 1st of November. He will be backed by a 7 piece line-up of his Ibuyambo Ensemble including 3 traditional dancers.
Here is a page about the event:
http://leethorpentertainment.blogspot.de/2014/10/dizu-plaatjies-for-new-york-show.html
Pic – © Songwrights Publishers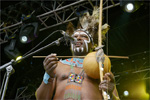 August 2013 - DIZU PLAATJIES and hisIBUYAMBO ENSEMBLE continue to make waves on stage. This summer they delivered knockout shows at the 2 of the world´s most prestigious world music festivals, The Rainforest World Music Festival in Borneo and WOMAD in the UK. Both events involved workshops which were very warmly received by fans.
We include links to the gigs concerned and other activities here: http://ibuyambo.blogspot.de/2013/08/festival-success-in-summer.html
Like on Facebook
Dizu returns to the studio with producer Patrick Lee-Thorp at the end of this month to work on new tracks for possible future releases.
Photo Credit – Graham Boynton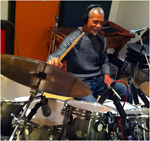 August 2013 - MUSICAL DEMOCRACY is the name of the fourth edition of the Cape Jazz album series. This time the record features Jack Momple´s group – The Cape Jazz Band. The album will be released in September 2013 and features such names as Jack, Errol Dyres, Spencer Mbadu, Stephen Erasmus, Kyle Shepherd, Tony Cedras and more, as well as newcomer pianist, Ramon Alexander.
See details on our featured releases page on this site, and for some background to the project
click here http://wifidead.blogspot.de/2012/07/cape-jazz-recognition.html
And http://leethorpentertainment.blogspot.de/2012/10/cape-jazz-band-flyer-2013.html
Pic – © Songwrights 2012


August 2013 - ROBBIE JANSEN sadly passed away in July 2010 leaving a huge gap in the Cape Town jazz scene. Since his collapse in 2005 he was never the same and after one relapse his doctors said he should not fly or be off a respiration assister. This put an end to our touring plans on the eve of solo breakthrough internationally.
However he was well enough to play a cracking concert to launch his last album. The album, Nomad Jez, was nominated for a SAMA Award in the category Best Jazz album of the year.
Robbie recorded 3 solo albums and numerous tracks for other artists on the Mountain label. His albums are – Vastrap Island, The Cape Doctor and Nomad Jez. A compilation release taken from these will be issued in October 2013 under the title, Ribbons – The best of Robbie Jansen.
Clip: http://www.youtube.com/watch?v=UrSakxaGFz4
Image credit: Kurt Ackermann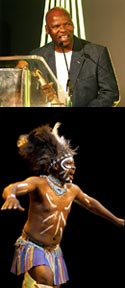 July 2010 - DIZU PLAATJIES' AFRICAN KINGS album has been released with considerable positive reaction. It is available in South Africa, UK, Germany and Benelux and most notably in France where he launched it with a wonderful concert in Paris in February this year.
A nice surprise was that the album won a SAMA award for best Alternative Africa Album at the ceremony in Sun City in May.
The tours have continued, notably the invitation to perform at the Pan African Arts Festival in Algiers in July and the 25 date Dutch tour in January/February. A big thank you to the promoters.
The year closes with a theatre residency at the Ivry Theatre, outside Paris, where he has developed an Afro/French cross-cultural event called Umculowethu. 2010 seems to be shaping up well for concerts but Dizu will be back to his teaching commitments at UCT.
Clips:
Album track - http://www.youtube.com/watch?v=LvAiabTnpCI
Live in Paris - http://www.youtube.com/watch?v=lx0byJABa5w
Image credit: Cobus Bodenstein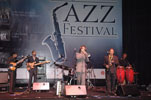 June 2010 - CAPE JAZZ Volume 3 – GOEMA had the prestigious recognition of entering the top 20 (position 14) of the European World Music Charts last year. This followed the German, Spanish, UK and Benelux release of the album.
The live component of this project, THE CAPE JAZZ BAND performed in France this year and will take to the road again in April 2010. A sad event was the passing away of trumpeter Alex van Heerden who worked on a number of Cape Jazz projects with Mountain Records. He will not be forgotten.
Clips:
Live in Malaysia - http://www.youtube.com/watch?v=zRpiCgBr6uU&feature=channel
Live in Paris - http://www.youtube.com/watch?v=aaoU9MC46hE&feature=channel


May 2010 - SCHALK JOUBERT'S debut on the Mountain label was met with a double SAMA nomination (Best Contemporary Jazz Album and Best Engineer) last year. The album has been released in South Africa, Benelux, Germany and the UK so far.
He put together his international sextet (this time with seven players, from Norway, Sweden, Sri Lanka, Australia and of course South Africa) to play a great show at the Genting International Jazz Festival in Malaysia. Schalk himself has had a very busy year playing in different bands in Australia, USA, Europe and in South Africa.
Clips:
Live - http://www.youtube.com/watch?v=9aLLdFHRhWg
Solo - http://www.youtube.com/watch?v=iXBsy3KOUuw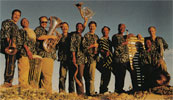 April 2010 - INTSHOLO, an album made by Amampondo and the Solid Brass Quintet in Cape Town some years ago has been re-packaged and issued this year. The album is an ambitious meeting of African handmade instruments and western orchestral brass.
The sensitive arrangements by William Haubrich make this music timeless. The album was produced by the late Donald Graham for our joint Mountclare Productions firm, now fully owned by Mountain Records.
Clips:
Live - http://www.youtube.com/watch?v=sSpYSyb6p8g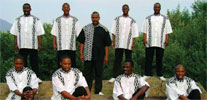 Aril 2010 - KHAYA PRODUCTIONS, the joint project between Elvis Mongezi Hermans and Mountain Records celebrated the completion of the Mbekweni Black Bafana album, with the group with a bash in Mbekweni last year. The group continue to perform in SA.


August 2009 - THE RAINBOW AFRICA is a recording project undertaken in France involving amongst other, the IBUYAMBO and CAPE JAZZ groups and school choirs. An album featuring the recordings done as part of the workshop and studio events was released in France and promoted there with performances in April 2008. The album has since been issued in Germany and SA. The project will continue with workshops with the Gongxeka brothers in Bourg-en–Breese in 2010.
Clips:
Rehearsal - http://www.youtube.com/watch?v=K0JsY-jdVWw


August 2009 - LTE TOURING is a new part of the business is expanding though the office in Hamburg. Bands on the Mountain label but also groups not necessarily signed to the label are being represented internationally. One such band is the award winning Maskandi outfit, Imithente from Kwazulu. Enquiries for booking LTE acts should be directed to our offices.
Clip: Imithente - http://www.youtube.com/watch?v=-ILNHw5xM8M
Image credit: Ntombithongo