TRAVELING EAST
JAN WOUTER OOSTENRIJK, NASSER SALAMEH

This album features the acoustic quarter-tone guitar, solo and with percussion. read more

CD MOU 47122
CAPE JAZZ PIANO
EBRAHIM SHIHAB, KYLE SHEPHERD, RAMON ALEXANDER, MIKE PERRY , HILTON SCHILDER, MERVYN AFRICA.

The theme of this album, the fifth edition in the series, is the solo piano. read more

CD MOU 4583
JAN WOUTER OOSTENRIJK
WE ARE CONNECTED

For the album "We Are Connected" Jan Wouter has built his own Electric Quartertone Guitar. Which means the instrument was given a customised fingerboard with extra frets designed to allow the player to produce quarter-tones like in Arabic music and Oriental maqam playing. read more

CD MOU 4566
DIZU PLAATJIES AND FRIENDS
UBUNTU – THE COMMON STRING

Ubuntu, is the third solo album from Southern Africa's traditional music guru Dizu Plaatjies. This time he teams up with performers he has worked with live over the last few years including his Ibuyambo Ensemble. read more

CD MOU 4554
THE CAPE JAZZ BAND
MUSICAL DEMOCRACY

This recording project is in part inspired by the spirit of Democracy – Musical Democracy. If you play in a jazz band you will have a lot more say in the music than in a band in most other musical genres. read more

CD MOU 4747
THE DIZU PLAATJIES IBUYAMBO ENSEMBLE
AFRICAN KINGS

This is the second solo project from one of Africa's neo-traditional music icons, Dizu Plaatjies. He is the former leader of the group Amampondo. This production is a little more contemporary in approach than his last recordings read more

CD MOU7575
MBEKWENI BLACK BAFANAS
WENZA NGABOM (He did it deliberately)

This album is an acapella choir record in the Mbube style of singing typical to South Africa. The repertoire is both secular and gospel though the latter dominates the subject matter. read more

CD MOU 7557
AMAMPONDO & THE SOLID BRASS QUINTET
INTSHOLO

Handmade African marimbas, percussion and symphony orchestra brass meet to create a unique atmosphere and musical experience. 9 tracks carefully recorded in single takes performed in an ambience of a concert hall but without audience. read more

CD AM 0282
VARIOUS ARTISTS
Cape Jazz 3 – GOEMA

This is the third part of a special series of albums highlighting Cape Jazz, the cultural jewel of the Cape of Good Hope. read more

CD MOU4488
SCHALK JOUBERT
KAYAMANDI

World Fusion of the highest quality and creativity from a young bass player and producer who is in the process of making a name for himself in South Africa and elsewhere. read more

CD MOU 4494
AMAMPONDO
An Image of Africa – Live in Cape Town

Rare and interesting footage of South Africa's neo-traditional music pioneers at the height of their creative careers. read more

DVD MOU 4546
MORRIS GOLDBERG
JAZZ IN TRANSIT

Highly respected international jazzman returns home briefly to record a set of standards and Cape music. A re-issue. read more

CD MOU 4500
JONATHAN BUTLER
Goaspel Days ( revisited)

The re-issue of Jonathan's first gospel recordings made at the time when this young artist was searching for definition to his life and music. read more

CD MOU4545
SEAWEED
Culture Shock

Good time original world-music/pop sounds in a concept album from former eVoid star. read more

CD MOU4475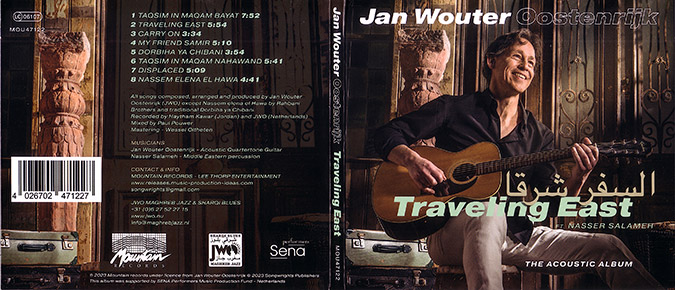 TRAVELING EAST
JAN WOUTER OOSTENRIJK, NASSER SALAMEH

CD MOU 47122
Since the 90's Jan Wouter has created remarkable crossover music inspired by Middle-Eastern and North- African culture, that he easily merges with his Western roots. Gathered under the tags Sharqi, Blues, Maghreb, Jazz, his innovative guitar playing takes you on a magical journey. T
raveling East is his 5th solo album, and is this time released on Mountain Records. The sparkling sounding converted western acoustic guitar is put in the spotlight here, armed with oriental microtonal favours triggered by a modified quarter tone fretboard. I
n the solo pieces Jan Wouter plays Taqsim, based on classical Arabic maqam performance. As captured in a compelling story the melody travels through a dizzying labyrinth, accelerating from silent starry nights to wild chases in the desert. Touched by great performers such as the oud playing of Munir Bachir and Simon Shaheen. Jan's playing is creatively turned back to the guitar. A reunion with its original ancestor.
The duo tracks sound full and rich, well produced electronically recorded with multiple layers and soundscapes. In his own compositions and the traditional works we hear the connection with jazz and blues in the improvised phrases and chord structures.
Adding a wider sonic dimension Jan Wouter is accompanied by master percussionist Nasser Salameh from Jordan, who brings a great contribution to the album with very tasteful swinging polyrhythmic grooves and colours.
TRACKLIST
1 - Taqsim in maqam Bayat 7:50
2 - Traveling East 05:45
3 - Carry On 3:30
4 - My friend Samir 5:00
5 - Dorbiha ya Chibani 04:15
6 - Taqsim in maqam Nahawand 5:45
7 - Displaced 05:02
8 - Nassem elena el Hawa 04:30
CREDITS
All songs composed, arranged and produced by Jan Wouter Oostenrijk (JWO) except, Nassem elena el Hawa by Rahbani Brothers, Dorbiha ya Chibani (Trad.) Recorded by Haytham Kawar (Jordan) and JWO (Netherlands)
Mixed by Paul Pouwer
Mastering - Wessel Oltheten
Graphic design - Enos Kruijtbosch
Cover photograph - Johan Visschedijk
Styling - Hilda Nanlohij
Photography – All photos, Patrick Lee-Thorp, except Steve Gordon (Musicpics) Kyle Shepherd and Ebrahim Shihab
Musicians
Jan Wouter Oostenrijk - Quartertone Guitars
Nasser Salameh – Middle Eastern percussion
All rights reserved. (P) & © Songwrights Publishers 2023.

back to top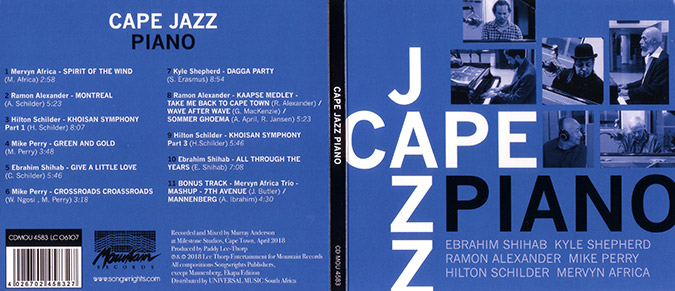 Cape Jazz - Volume 5.

CD MOU 4583
The theme of this album, the fifth edition in the series, is the solo piano.
I chose pianists with whom I had worked and planned to ask them to play some of the standards of the genre and where possible select compositions published by Songwrights Publishers who, together with Mountain Records, made this project possible through providing most of the funding.
The idea behind this chapter started somewhat differently to how it ended up. The original plan was to focus on one pianist. But this is somehow against the spirit of the whole series, which has been to compile existing productions from different artists or to record collaborations between several musicians.
This compilation is not a "best of" pianists in the Cape, nor is it a collection of the most popular songs in the genre. It is my personal choice of both. There are many wonderful piano players from this part of the world whom I would have liked to include.
So I set out to soothe the egos of artists on a list of jazzmen and women that I had made, explaining why I wanted only one or two songs from each of them. I wrote to ten pianists. Almost immediately five of those I invited replied. I explained the plan, which at that point was still not completely fixed in my head. The reaction was positive. Three of those I had written to did not reply to my emails. Merton Barrow sadly declined on grounds of health. Ebrahim Shihab responded that he was not sure, but Ramon Alexander twisted his arm for me.
Almost all of the players told me that they wanted to perform at least one of their own songs. This changed things somewhat. Most of the songs on my list were not by the guys who had accepted my invitation. I wanted works by the likes of Basil Coetzee, Tony Schilder, Stephen Erasmus and of course the main names in the genre, Abdullah Ibrahim and Jonathan Butler.
However I had a yes from Hilton Schilder and his uncle Ebrahim Shihab (Chris Schilder). Both of them had written a number of songs for the publishing company and had also recorded them with me. I did not want to miss the chance of perhaps getting new versions of that material on disc so I moved in the direction of perhaps selecting at least one own composition per pianist.
The way we did the recording was to book Milestone Studios for a week and set up the piano in the middle of the big room. Except for daily tuning, neither the piano nor the microphones were repositioned or changed, so the sounds recorded differ only due to the techniques of the different players, (and a bit of EQ and effects at the mixing stage).
With the assistance of engineer and long time collaborator, Murray Anderson, we captured the following solo piano recordings for this album.
Patrick Lee-Thorp
TRACKLIST
1 - Mervyn Africa - Spirit of the Wind (M. Africa) 2:58
2 - Ramon Alexander – Montreal (A. Schilder) 5:23
3 - Hilton Schilder - Khoisan Symphony Part 1 (H. Schilder) 8:07
4 - Mike Perry - Green and Gold (M. Perry) 3:48
5 - Ebrahim Shihab - Give a little love (C. Schilder) 5:46
6 - Mike Perry - Crossroads Crossroads (W. Ngosi, M. Perry) 3:18
7 - Kyle Shepherd - Dagga Party (S. Erasmus) 8:54
8 - Ramon Alexander - Kaapse Medley - Take me back to Cape Town (R. Alexander) / Wave After Wave (G. MacKenzie) / Sommer Ghoema (A. April, R. Jansen) 5:23
9 - Hilton Schilder - Khoisan Symphony Part 3 (H. Schilder) 5:46
10 - Ebrahim Shihab - All through the years (E. Shihab) 7:08
11 - Bonus track - Mervyn Africa Trio – Mashup - 7th Avenue (J. Butler) / Mannenberg (A. Ibrahim) 4:30
CREDITS
Ebrahim Shihab - Piano
Ramon Alexander - Piano
Mike Perry - Piano
Hilton Schilder - Piano
Mervyn Africa - Piano
Kyle Shepherd – Piano
Jack Momple - Percussion
Murray Anderson - Bass
Photography – All photos, Patrick Lee-Thorp, except Steve Gordon (Musicpics) Kyle Shepherd and Ebrahim Shihab
Sleeve design and artwork – Cyrille Buffet
email – songwrights@gmail.com
Recorded and Mixed by Murray Anderson at Milestone Studios, Cape Town, April 2018
Produced by Paddy Lee-Thorp
EAN – 4026702458327
LC – 06107
All rights reserved. (P) & © 2018 Lee Thorp Entertainment for Mountain Records.

back to top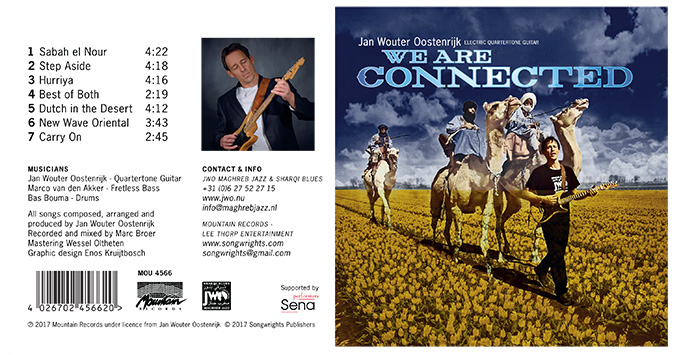 JAN WOUTER OOSTENRIJK
WE ARE CONNECTED

CD MOU 4566
About the Electric Quartertone Guitar
For the album "We Are Connected" Jan Wouter has built his own Electric Quartertone Guitar. Which means the instrument was given a customised fingerboard with extra frets designed to allow the player to produce quarter-tones like in Arabic music and Oriental maqam playing. Trained as a western guitarplayer in the traditions of classical, jazz, blues and rock music , Jan Wouter has also studied some of the Northafrican cultural styles and adapted his playing to accommodate these from Maghreb and Sharq music. This album may be the first Electric Quartertone Guitar rock album of its kind.
About the songs
"Sabah al Nour" – is the answer given when someone says "Good morning" in the Arab world. In a poetic way it means "May your day be full of light", the song is dedicated to my daughter Nouri.
Step Aside – To achieve our destiny we must remain strong and overcome obstacles in our paths. Key of this song is maqam rast in G, a major scale with quartertone lowered on the 3d and 7th of the scale often used to express feelings as directness and power.
Hurriya – is the Arab word for freedom. Imagine dancing all night long to the eternal Chaaby rhythms of the Maghreb as used in this song. Those who are lucky enough to have joined a Moroccan wedding, know what I mean.
Best of Both – Unlike over exposed integration and migration issues, the multicultural world is a source of inspiration and innovation, that enriches our lives and opens our minds.
Dutch in the Desert – Inspiration for this song came from playing at the Taragalte festival, a place that celebrates peace and nomadic heritage as Tuareq bedouine culture in the Moroccan desert.
New Wave Oriental – As a young musician in the 80's I was very much into punk and new wave music. At that time The Cure had a song , "Killing an Arab" that inspired me. My first idea was to name this song "Kissing an Arab" as funny answer and tribute to my teenage heroes. Then I discovered the Cure already use this subtitle nowadays to change the negative image around song. Basic key of this song is maqam bayati in D, a natural minor scale with quartertone lowered on the 2nd of the scale, often used to express feelings as joy and vitality.
Carry On – an attempt to express the feelings of the Syrians who might have become completely numb following years of misery and war.
TRACKLIST
1 Step Aside 4:22
2 Sabah el Nour 4:18
3 Hurya 4:16
4 Best of Both 2:19
5 Dutch in the Dessert 4:12
6 New Wave Oriental 3:43
7 Carry On 2:45
MUSICIANS
Jan Wouter Oostenrijk - Electric Quartertone Guitar
Marco van den Akker - Fretless Bass
Bas Bouma - Drums
CREDITS
All songs composed, arranged and produced by JWO
Recorded and mixed by Marc Broer
Mastering Wessel Oltheten
Graphic design Enos Kruijtbosch
(p) 2017 Lee Thorp Entertainment for Mountain Records (c) Songwrights Publishers .

back to top



DIZU PLAATJIES AND FRIENDS
UBUNTU – THE COMMON STRING

CD MOU 4554
Ubuntu, is the third solo album from Southern Africa's traditional music guru Dizu Plaatjies. This time he teams up with performers he has worked with live over the last few years including his Ibuyambo Ensemble. He is a bow specialist and it was decided that strings would be the common thread. They became the main deciding criterion in the choice of performers with whom to collaborate.
At the same time as presenting Dizu's songs and performances, we did not want to ignore the individual musical styles and image of the performers with whom we were working. We wanted to use these, even feature them.
Dizu met Stephen Bantu Biko in the 1970s and he had made a strong impression on him. He had a Mandela tribute up his sleeve as well but felt that a Biko tribute would be very appropriate and timely. In the two songs, Mandela Afrika and Bantu Biko, Dizu honours the two heroes of the struggle for democracy in SA. French/Chilean duo, Sueno en la Fabrica are the collaborators on these to songs.
For three years in a row Dizu had worked with different young French jazz musicians. One of the groups was a mainly wind instrument ensemble, L'Arbre Canapas. He encouraged them to incorporate some string instruments - violin (fiddle), double bass and mandolin in their arrangements. Together with brass and his percussive vocals, and his Uhardi, he had another two songs, that fitted our theme.
Derek Gripper is a formidable acoustic guitar virtuoso and his special interest in West African music made him an excellent choice to work on this project. Derek is no stranger to performing together with a bow player. He and Dizu workshopped two songs, Ukuza kwe Langa and Traffic iJemele, out of the Dizu's melodies.
Two tacks that had been going down very well live were Ola Langa and Phalisa. Both featured Nthombi Thongo on his 12 string acoustic guitar.
Izalwa iAlgiers, is one of the 3 songs featuring the Ugandan harps on this album. The song was inspired by Dizu's participation in the PANAF Festival in Algiers in 2009, where he met a Ugandan performer and musicologist Haruna Walusimba who sold Dizu some harps that he had brought with him to the festival.
Tracks
1 Bantu Biko (D Plaatjies/P Lee-Thorp)
2 Inkomo (D Plaatjies/S Matole/M Lande/M Ludonga)
3 Langa Ola (D Plaatjies/N Gongxeka)
4 Ithemba Liya Danisa (D Plaatjies)
5 Mandela Afrika (D Plaatjies)
6 Xoliswa Sthandwa Sentliziyo (Love of my life) (D Plaatjies)
7 Izalwa Algiers (Born in Algiers) (D Plaatjies/N Gongxeka/X Gongxeka)
8 Phalisa (D Plaatjies/M Matotiyana)
9 Ukuza kwe Langa (The Sun is Coming) (M Plaatjies/D Gripper)
10 Traffic iJemile (Township traffic Jam) (D Plaatjies/D Gripper)
Bonus track
11 Malaika (F W Mdawida )
All songs published by Songwrights Publishers, except Malaika, Equator Sales.
Musicians
Dizu Plaatjies – Uhadi, Umrhubhe, Lead Vocals, Percussion, Ugandan Bow Harp, Mbira, Talking Drum, Nyungwe, Flute
Nceba Gongxeka – Ugandan Bow Harp, Lead vocals, Bass Marimba, Nyungwe, Percussion
Nicolas Gongxeka – Ugandan Bow Harp, Backing Vocals, Tenor marimba, Nyungwe, Percussion
Nthombi Thongo – Acoustic guitar, Lead Vocals (Thongo appears courtesy of Instinct Africain)
Kim Masala – Soprano Marimba, Backing Vocals, Percussion
Derek Gripper – Acoustic Guitars (10 string & 6 string), Vocals (Derek appears courtesy of New Cape Records)
Allou April – Electric Guitars
Thabisa Dinga – Lead and Backing Vocals
Didier Boyat – Electric and Acoustic Guitars, Ukulele, Electric Organ
Alexandra Boyat – Lead Vocals and Vocal Sample Programming, Metal Balafon
Toto Masimini - Percussion
Guillaume Grenard – Trumpet, Bass, Flute
Helen Peronnet – Violin and Vocals
Sylvain Nallet – Clarinets and Flute
Gerald Chagnard - Alto saxophone, Mandolin, Flute
Tibaut Martin - Drums, Cajon
Lucas van Merwijk - Drum Kit (Lucas appears courtesy of Tam Tam Records)
Alex Henke – Drum and Bass Programming
Credits
Produced by Patrick Lee-Thorp
Recorded by Murray Anderson , Didier Boyat and Lucas van Merwijk
Final mix and editing by Alex Henke Mastering by Tim Lengfeld
Sleeve design and artwork by Cyrille Buffet

(P) & © 2015 Lee Thorp Entertainment for Mountain Records.

back to top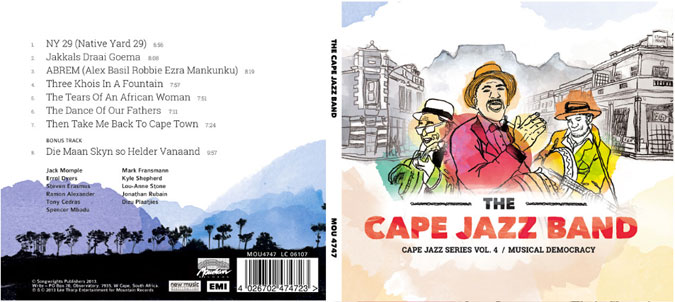 THE CAPE JAZZ BAND
MUSICAL DEMOCRACY
Cape Jazz series - Vol. 4

CD MOU 4747
This recording project is in part inspired by the spirit of Democracy – Musical Democracy. If you play in a jazz band you will have a lot more say in the music than in a band in most other musical genres.
This release is the 4th in a series of Mountain Records albums under the Cape Jazz banner. This time, unlike the previous records which featured numerous groups, this album is basically the work of one band, called The Cape Jazz Band (CJB).
The CJB is a loose collection of top Cape Town based musicians under the leadership of veteran drummer Jack Momple, who come together to perform some of the better known works in the genre. The compositions of Basil Coetzee, Abdullah Ibrahim (Dollar Brand), Robbie Jansen, Tony Schilder, Jonathan Butler and others, are in their program. Many of their concerts have been outside South Africa, spreading the message of this music from the Cape. This album is a collection of works written by the band members and now gives them some "original" works to add to the set.
Each of the previous albums in this series had a theme and the theme of this one is democracy in composition and arrangement. When it comes to Ethno Jazz, which Cape Jazz is, where ideas are borrowed from a cultural tradition, or from what is known as traditional music, it is a stretch of the imagination for a composer to claim a work is 100% his or hers. When one musician may come to the studio with a melody and a rhythm, but not with a hand full of scores, expecting the chosen players to contribute more than just their playing, then it is perhaps a bit unfair to claim sole composition and arrangement rights.
Tracks
1 - NY 29 (Native Yard 29) 6:56
2 - Jakkals Draai Goema 8:08
3 - ABREM (Alex Basil Robbie Ezra Mankunku) 8:19
4 - Three Khois in a Fountain 7:57
5 - The Tears of an African Woman 7:51
6 - The Dance of our Fathers 7:11
7 - Then take me back to Cape Town 7:24
Bonus track
8 - Die Maan Skyn so Helder Vanaand 9:57
The Band
Jack Momple – Drums and Percussion 1-8
Errol Dyers – Guitars 1-4
Steven Erasmus – Bass, 1-4, Voice 3 & 7
Ramon Alexander – Piano and Organ 1-7
Tony Cedras – Guitar and Flugelhorn 5, Accordion 6, Trumpet 7
Spencer Mbadu – Bass 5-7
Mark Fransman - Alto sax 1& 2
Kyle Shepherd - Soprano and Alto sax 4, Piano, Soprano sax and Voice 8
Lou-Anne Stone – Alto sax 5 & 6
Jonathan Rubain – Bass and Voice 8
Dizu Plaatjies – Percussion 1
All compositions
Alexander / Dyers / Erasmus / Momple - 1,2,3,4
Alexander / Mbadu / Momple - 5,6,7
Trad. Arr. Momple / Rubain / Shepherd - 8
Credits
Produced by Patrick Lee-Thorp and Murray Anderson
Recorded at Milestone Studios, Cape Town by Murray Anderson.
Track 8 recorded by Christophe Thénon at Didier Boyat Studios, Bourg en Bresse, and mixed by Murray Anderson
Mastering
Tim Lengfeld
Sleeve Design and Artwork
Yameng Li
All titles published by Songwrights Publishers.
(P) & © 2013 Lee Thorp Entertainment for Mountain Records.

back to top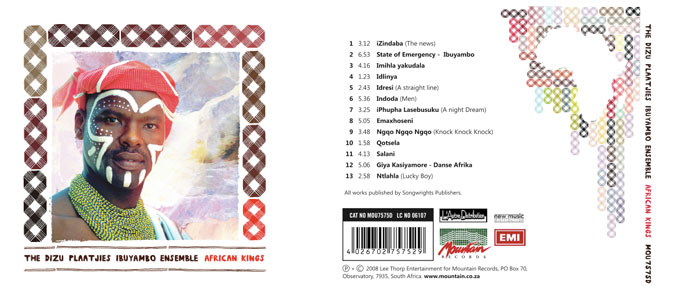 THE DIZU PLAATJIES IBUYAMBO ENSEMBLE
AFRICAN KINGS

CD MOU7575
A career of well over 25 years as a live performer, recording artist and music academic has given Dizu Plaatjies a special perspective on music and the business of music making.
While with Amampondo there were collaborations with orchestral brass players, jazz musicians, techno dance producers and pop musicians, but until this album he has not used western instruments in his work.
The introduction of the acoustic guitar has brought a different perspective on the arrangements and to the production, even where the guitar has not been used! It should be quickly noted that where the guitar is featured it is in the rural southern African Maskandi playing style.
With this album he has decided to arrange and record a selection of songs, which is situated more in the popular world music sphere than he has done with his previous recordings. Though instruments like marimbas, akadinda and mbiras are used they are arranged together with the percussion and vocals in a way that is more contemporary than before. He has encouraged the contribution and participation of the Ibuyambo personnel in composition and arrangement. The vocal arrangements and the additional lyrics of Lungiswa Plaatjies deserve special mention as well as those of Nceba Gongxeka on Imihla and Salani.
This is an album made for a broader audience than any of his previous releases. Dizu has re-looked at two old compositions, re-arranged some traditional songs and has given some new works their first airing on disc.
The Tracks -
1 / iZindaba – (The news) 3.12
2 / State of Emergency - Ibuyambo 6.53
3 / Imihla yakudala 4.16
4 / Idlinya 1.23
5 / Idresi (A straight line) 2.43
6 / Indoda – (Men) 5.36
7 / iPhupha Lasebusuku – (A night Dream) 3.25
8 / Emaxhoseni 5.05
9 / Ngqo Ngqo Ngqo - (Knock Knock Knock) 3.48
10 / Qotsela 1.58
11 / Salani 4.13
12 / Giya Kasiyamore – Danse Afrika 5.06
13 / Ntlahla – (Lucky Boy) 2.58

All works published by Songwrights Publishers.
The Ibuyambo Ensemble –

Dizu Plaatjies: Mbira, Uhadi, Drums and Percussion, Lead Vocals, Flute, Akadinda.
Lungiswa Plaatjies: Marimba, Lead and backing Vocals, Akadinda, Nyungwe Nyungwe.
Nicolas Gongxeka: Marimbas, Percussion, Vocals, and Akadinda.
Nceba Gongxeka: Marimbas, Drums and Percussion, Akadinda, Lead and backing Vocals.
Ntombetongo: Acoustic guitar, Percussion, Lead and backing Vocals.
Kim Mkokeli Masala: Marimba, backing Vocals.
Manrose Masimini: Djembe and backing Vocals.
Mantombi Matotiyana: Uhadi, Lead and backing Vocals.
Nokuthembela Maka: Mouth Organ and Vocals.
Musical arrangements by Dizu Plaatjies
Recorded by Murray Anderson
Produced by Patrick Lee-Thorp
Enquiries – info@mountain-records.com

back to top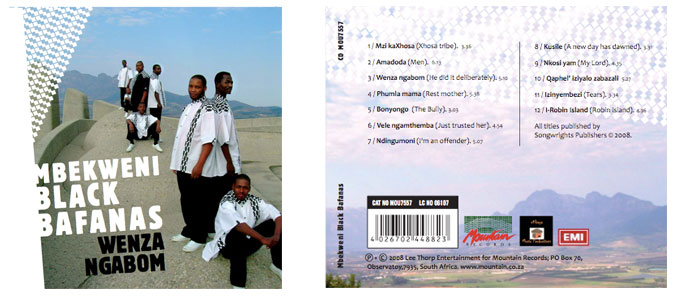 MBEKWENI BLACK BAFANAS
WENZA NGABOM (He did it deliberately)

CD MOU 7557
Life is about contrast, good or bad and these are inseparable companions. Someone once said God is the taste that stood the test of the time, he does not change with the changing times and circumstances. He is today, tomorrow and forever.
This long awaited album (Wenza Ngabom) communicates the experience that we have in the last ten years of our existence. In life, people always expect the good things from God and always mourn a lot when the going gets tough. Little do people realize that God has his own way of doing things and everything he does is for a particular reason. Wenza Ngabom is just a testimony to the fact that God does not want untested material, and whatever it is that happens to us, God does it deliberately to fulfil a certain mission.
God does not close the door without opening a window. He always allows us to use our creativity to invent things, explore and make new discoveries. The memories of the last ten years have not always been good memories, however we learned a lot along the way and that experienced helped us to grow and achieve what we have today. Despite loosing five members through death recently, the group never looked back, we progressed and achieved great things in life. We often used our countries historical background as a benchmark to reflect on whenever we had to deal with pain and suffering and that helped us to soldier on. Those challenges helped us to see the world as a whole and we always hoped that with hard work we would eventually realize our dreams. Anyway who said it is going to be easy in this industry.
Wenza Ngabom is just a message of hope to those who are about to give up. This is just the beginning; there is still a long way to go. The challenges that we are encountering are just a test of character. God does not give you everything. He just gives us enough and allows making the best out of what he has given us. Remember, you are only going to reap, just what you sow.
(A message from the group)
1 / Mzi kaXhosa (Xhosa tribe). 3.36
2 / Amadoda (Men). 6.13
3 / Wenza ngabom (He did it deliberately). 5.10
4 / Phumla mama (Rest mother). 5.38
5 / Bonyongo. 3.03
6 / Vele ngamthemba (Just trusted her). 4.54
7 / Ndingumoni (I'm an offender). 5.07
8 / Kusile (A new day has dawned). 3.31
9 / Nkosi yam (My Lord). 4.35
10 / Qaphel' iziyalo zabazali 5.27
11 / Izinyembezi (Tears). 3.34
12 / I-Robin Island (Robin Island). 4.36
All titles published by Songwrights Publishers © 2008

Produced by Elvis Mongezi Hermans

back to top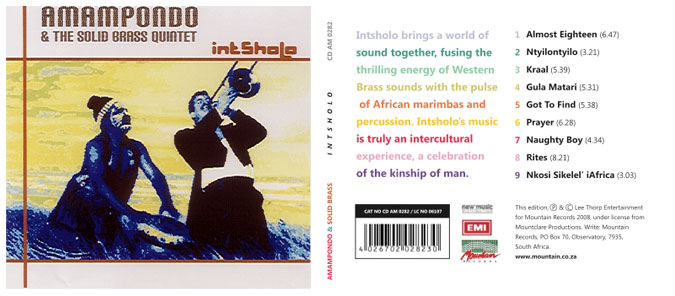 AMAMPONDO & THE SOLID BRASS QUINTET
INTSHOLO

CD AM 0282
In 1994 South Africa entered a new political dispensation and there was great optimism, following years of Apartheid tyranny. Traditional music stalwarts Amampondo got together with a brass quintet, The Solid Brass, who were all members of the Cape Town Symphony Orchestra, to record repertoire that the musicians felt reflected the times.
As it turned out many creative efforts were overshadowed by other events in the country and despite some foreign touring and local concerts, the project did not take off live.
But the recordings were well received in the USA, Scandinavia and Europe particularly in the classical music scene so we have re-packaged and will now re-issue them in South Africa after an absence of some years from the market.
It is no mean task to bring together handmade wooden marimbas with concert pitch brass, but the performers scraped and sanded their instruments, re-tuned their horns and arranged the percussion in repeated rehearsal to produce a sensitive and colourful recording.
The repertoire of 9 tracks includes original works from the players in the ensemble as well as arrangements of two South African classics, Ntyilontyilo and the national anthem, Nkosi Sikelel' iAfrica.

back to top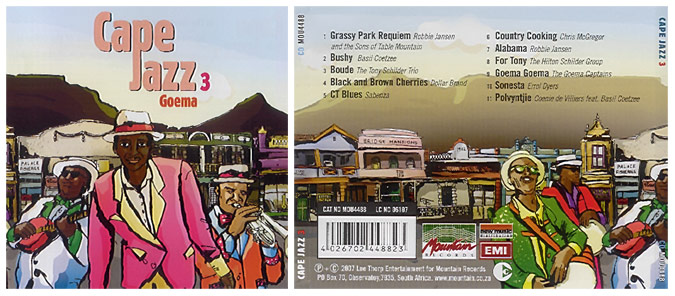 VARIOUS ARTISTS
Cape Jazz 3 – GOEMA

CD MOU4488
CAPE JAZZ is a genre of music that has been around for a long time before a tag was put on it. Perhaps the first real internationally recognised proponent of this music was Dollar Brand (Abdullah Ibrahim) and the first popular recording was his Manenberg, made in the mid 1970's. But the "jazzification" of Cape folk songs goes back to the time when troops of carnival revellers, known as the Klopse or Coons, began to parade through the streets of Cape Town notably on Tweede Nuwe Jaar (the 2nd of January) to compete in the competitions that surround this event.
This is the third in a series of compilation albums featuring a number of recordings under the title Cape Jazz. The first part of the series, which was issued in 1992, featured Robbie Jansen and Basil Coetzee, guitarist Jonathan Butler, Morris Goldberg, the Tony Schilder Trio and others. It collected several lively tunes, which were strongly reminiscent of the carnival music, but which were all original compositions, this was testimony that here was a separate genre of music.
Several years passed and a bunch of new bands associated with the sound appeared. The Goema Captains headed by Mac McKenzie, The Hilton Schilder Group and Jansen's Sons of Table Mountain were pulling in the fans. Interestingly enough there was a lot of cross membership between the groups.
Part two of this series was a look at the genre from the point of view of several invited bandleaders who recorded tracks especially for the album.
Now part 3 returns to the spirit of the first edition but focusing directly on Goema or Goema Jazz. Several traditionals have been collected or recorded for this CD. There are contributions from Coetzee's final album and two from Robbie Jansen (both not available elsewhere) are included. There as well is a track each from Errol Dyers, Chris MacGregor and Dollar Brand plus more, making 11 cuts in all.

back to top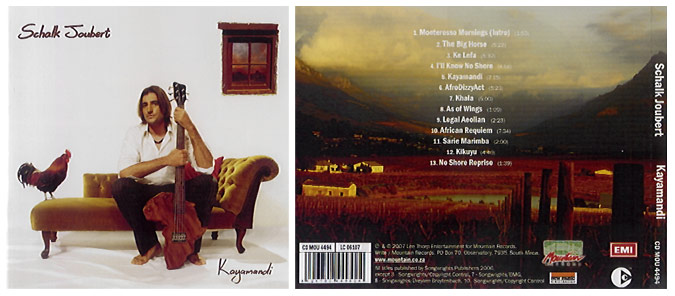 SCHALK JOUBERT
KAYAMANDI

CD MOU 4494
This is the debut album from young bass player and producer Schalk Joubert. So mature is it that one can hardly believe that it is a debut release but in fact he has been doing sessions, winning awards and producing other people's work for a number of years.
The album is described as World Fusion. It is a fusion of South African pop, jazz, world, township and traditional sounds and compositions. It is a fusion of the talent of some of the countries premier performers. Schalk has pulled many favours. Contributions by Shannon Mowday, Concord Nkabinda, Barry van Zyl, Zolani Mahola, Marcus Wyatt, Lize Beekman, Feya Faku, Gloria Bosman, Melissa van der Spy and others make this fusion a rare but ever so tasty dish indeed.
He recorded the project in the heart of the country's wine region, where he lives. Like a smooth wine the master was almost 2 years in the making. There is fine attention to every detail, from the financing right down to the sleeve from Schalk himself, making this record a very personal statement. Virtually all the musical arrangements are his and he has a hand in all the compositions. The sound is big and engaging but at no stage does the production overpower the composition. Both vocal (in Portuguese, Zulu, Xhosa, English) and instrumental works are on offer.
Video: http://www.youtube.com/watch?v=6E7sqfUl4nM

back to top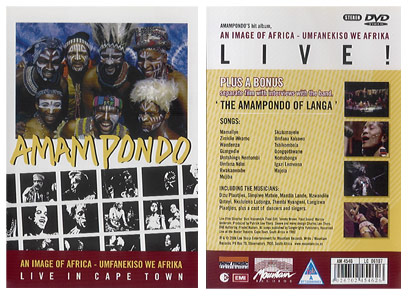 AMAMPONDO
An Image of Africa – Live in Cape Town

DVD MOU 4546
AMAMPONDO (which means the people of Pondoland in Xhosa) are the biggest name in ethnic African Music to come out of South Africa in the last 25 years. They toured doing their special brand of energetic singing, dancing and acrobatics, world–wide, but most often in Europe. Notable shows were their UK appearances at the Nelson Mandela Birthday Bash (they were known as Mandela's favourite band) in Wembley stadium, their first season at the Edinburgh Festival and their debut in the UK WOMAD festival series. They played their hand made marimbas and cow hide drums in Paris, Stockholm, Milan, Amsterdam, Hamburg and many other European cities and at home in South Africa they were celebrated as the voice of traditional African music of the 1980's and 90's.
They had not only a live presence; some 8 albums were released at home and internationally. On this DVD they perform most of their now well-loved repertoire, including tracks from their first 3 albums.
In 1992 they released their best seller album called - An Image of Africa. The album continues to sell today. The show that launched this CD was filmed but never edited. In 2006, producer Patrick Lee-Thorp managed to edit the footage and the result is this DVD. It is a fitting document of the group's live act at the height of their creative success.
The package includes a short documentary shot in 2005, interviewing with the founder members looking back on their career, entitled, The Amampondo of Langa. Langa is the township in Cape Town where they all still live.
The DVD contains the only substantial film live footage of the original line-up that includes Dizu Plaatjies, Simpiwe Matole, Mzwandile Qotoyi, Mandla Lande, Michael Ludonga, and dancers, Lungiswa Plaatjies and Tembi Nyandine.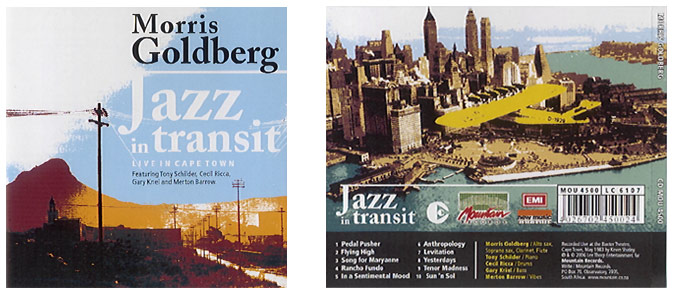 MORRIS GOLDBERG
JAZZ IN TRANSIT

CD MOU 4500
MORRIS GOLDBERG is a clarinet player and alto saxophonist who left the Cape in the 1970's to study and settle in New York. In his early times before leaving South Africa he often performed in the clubs of District 6 and Observatory where Chris McGregor, Gerry Bosman, Dollar Brand and others plied their talent as well.
Morris has a number of solo releases and contributes to the recordings and live bands of amongst others, Paul Simon and Harry Belafonte. He has his own project he calls SafroJazz.
This re-issue album was recorded at the Baxter Theatre in Rondebosch, on a trip back to Cape Town. He used the Tony Schilder trio (Tony, Gary Kriel and Cecil Ricca) to back him plus Merton Barrow on vibes. The repertoire is a mixture of jazz standards and Cape music.
A young Kevin Shirley did the recordings. This collection is not the full program of the concert because of space limitations. The original vinyl LP release (it was a double) is now a collector's item.

back to top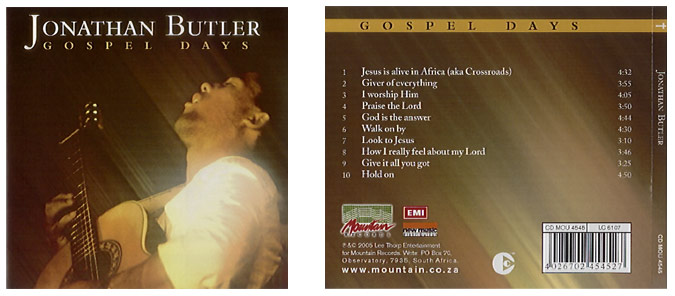 JONATHAN BUTLER
Gospel Days (revisited)

CD MOU4545
Jonathan Butler is without doubt one of the most important jazz exports from South Africa. Though not mainly recognised as a Gospel artist he has continued to record spiritual songs.
After a spell on the road and in studio with Pacific Express, who really encouraged him to move into jazz, Jonathan recorded two albums. These both had a number of Gospel tracks on them. This album collects the first of these ever-put on record. At this time he sought comfort in his faith away from the ravages of touring and its accompanying influences.
This album has both instrumental and vocal gospel tracks in one release. Sometimes raw but always full of commitment, these recordings were also his first chance at creating for himself a career as a solo artist featuring his acoustic guitar.

back to top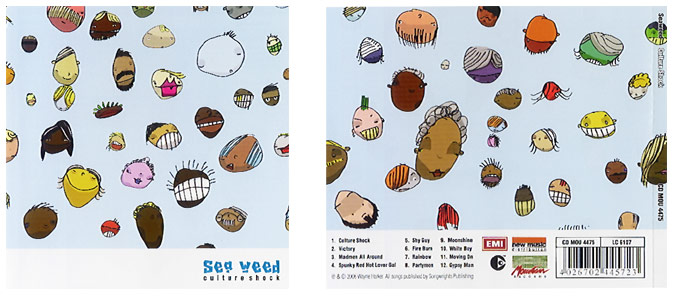 SEAWEED
Culture Shock

CD MOU4475
Wayne Harker was part of the successful afro-pop outfit, eVoid in the 1980s in South Africa. The group had several radio chart hits.
10 years ago he moved to Köln, Germany to start his own recording and sound business. While producing and mixing for other artists he quietly composed and developed a large number of his own songs. This release is his shortened collection of these.
The songs range from Afro-pop to World Music, taking in West African rhythms and Township beats along the way. The tracks are mostly his performances built on the contributions of session soloists to make a concept album. Though sometimes commercial and danceable the tracks are mostly too long to be radio fare.
Sea Weed has now moved out of the studio and become a live act performing this and other good time music at festivals and clubs.

back to top